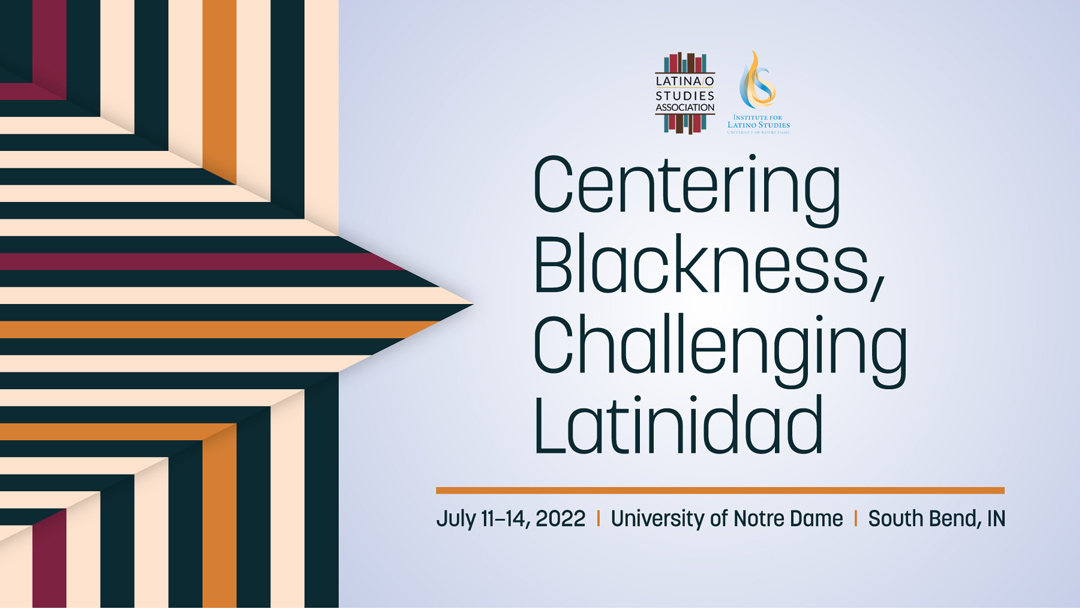 Dear LSA Members:
We are very much looking forward to seeing all of you at the 2022 Latina/o Studies Association biennial conference this summer! The conference will be hosted by the University of Notre Dame in South Bend, IN. We note especially that the conference activities start with a welcome reception on the eveining of Monday, July 11th and that panel presentations will start at 8:30 on July 12 and run through the end of the day on Thursday, July 14th. We are writing to remind you to register for the conference and join the LSA.
Many of us have truly missed the opportunity to connect with our LSA friends and colleagues over the past two years, and we are thrilled to be able to meet again in-person! Due to financial limitations, we are unable offer a hybrid option for the conference.
LSA 2022: "Centering Blackness, Challenging Latinidad" will feature plenaries, professionalization sessions, panels on new books in Latina/o/x studies, poetry readings, and receptions. 
We have planned an exciting lineup of featured speakers, including Afro-Latinx author Dr. Mayra Santos-Febres, Afro-Latinx poet Julian Randall, ND author Xavier Navarro Aquino, scholar Dr. Lorgia García-Peña, Stateless/Apátrida film director Michele Stephenson, and Afro-Latinx artists Arturo Lindsay and Juana Valdes.
The early registration period ends in just a few weeks on May 11, 2022. To register for the conference and reserve a hotel room, click here.
 To present at the conference, you must be a member of the LSA. To join the LSA, click here.
 See you in July!
The LSA Executive Council